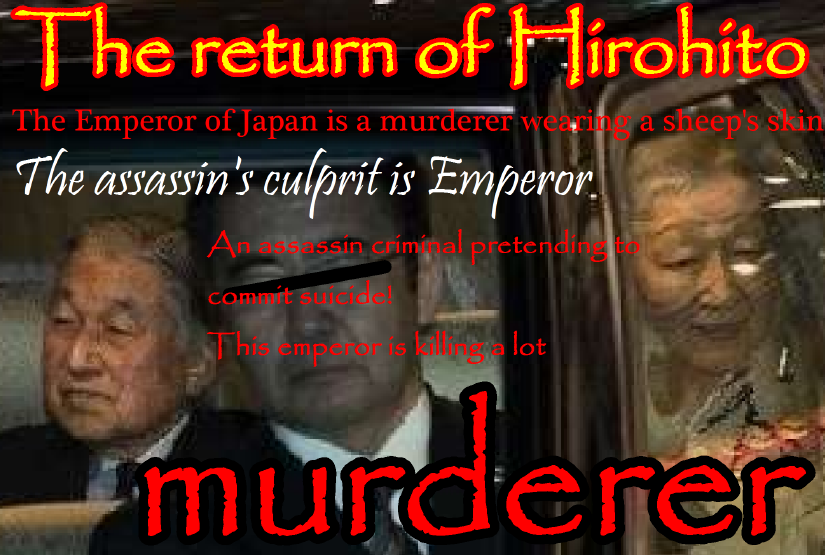 Japan Emperor is a Terrorist.
He is a person who has assassinated an electric shock device in a house and a car in secret.
The police run the Crime. The damage is concealed by the Police.
Terrorist weapons exploiting Japan's technical Capabilities. Downsizing of This.
Mass production.
It's a small weapon that will spill out into the world.
The emperor must take this Responsibility.
We are looking for Collaborators. This criminal organization.
Let's take responsibility to the emperor and the imperial Family.
This electric shock weapon can be attached in a few minutes.
I hope that God's wrath will be poured into this demon Emperor.
L'Empereur du Japon est un terroriste.
C'est une personne qui a assassine un dispositif de choc electrique dans une maison et une voiture en secret.
La police dirige le crime.
Les degats sont etouffes par la police.
Armes terroristes exploitant les capacites techniques du Japon. Reduction des effectifs.
Production de masse.
C'est une petite arme qui va se repandre dans le monde. L'empereur doit prendre cette responsabilite.
Nous recherchons des collaborateurs. Cette organisation criminelle.
Prenons la responsabilite de l'empereur et de la famille imperiale.
Cette arme de choc electrique peut etre attachee en quelques minutes. J'espere que la colere de Dieu sera versee a cet Empereur demon.
El emperador de Japon es un terrorista.
El es una persona que ha asesinado un dispositivo de descarga electrica en una casa y un coche en secreto.
La policia dirige el crimen.
El dano es sofocado por la policia.
Armas terroristas que explotan las capacidades tecnicas de Japon. Reduccion de este.
Produccion en masa.
Es una pequena arma que se derramara en el mundo. El emperador debe asumir esta responsabilidad.
Estamos buscando colaboradores. Esta organizacion criminal.
Tomemos la responsabilidad con el emperador y la familia imperial.
Este arma de la descarga electrica se puede conectar en algunos minutos. Espero que la ira de Dios sea vertida en este emperador demonio.
Император Японии-террорист.
Он человек, который убил электрического устройства шок в доме и автомобиле в тайне.
Полиция управляет этим преступлением. Полиция подавила ущерб.
Террористическое оружие эксплуатирует технические возможности Японии. Сокращение этого.
Массовое производство.
Это маленькое оружие, которое выльется в мир.
Император должен взять на себя эту ответственность.
Мы ищем сотрудников. Этой преступной организации. Возьмем на себя ответственность перед императором и Императорской семьей.
Это электрическое шоковое оружие может быть прикреплено в течение нескольких минут. Я надеюсь, что Божий гнев будет вылил в этого императора демона.
Giappone imperatore e un terrorista.
Lui e una persona che ha assassinato un dispositivo di shock elettrico in una casa e una macchina in segreto.
La polizia esegue il reato.
Il danno e soffocato dalla polizia.
Armi terroristiche sfruttando le capacita tecniche del Giappone. Ridimensionamento di questo.
Produzione di massa.
E una piccola arma che si riversera nel mondo.
L'imperatore deve assumersi questa responsabilita.
Siamo alla ricerca di collaboratori. Questa organizzazione criminale.
Prendiamo la responsabilita Dell'Imperatore e della famiglia imperiale.
Questa arma shock elettrico puo essere collegato in pochi minuti. Spero che l'ira di Dio sara versato in questo imperatore demone.
Japan keizer is een terrorist.
Hij is een persoon die heeft vermoord een elektrische schok apparaat in een huis en een auto in het geheim.
De politie stelt de misdaad in werking.
De schade is verstikkend door de politie.
Terroristische wapens die de technische mogelijkheden van Japan exploiteren. Inkrimping van deze.
Massaproductie.
Het is een klein wapen dat zal morsen in de wereld.
De keizer moet deze verantwoordelijkheid nemen.
Wij zijn op zoek naar medewerkers. Deze criminele organisatie.
Laten we de verantwoordelijkheid nemen om de keizer en de keizerlijke familie.
Deze elektrische schok wapen kan worden bevestigd in een paar minuten. Ik hoop dat god's toorn zal worden gegoten in deze demon keizer.
?????????? ???????? ??????
??? ????? ???? ????? ???? ?????? ?????????? ?? ???? ?????? ?? ??????.
?????? ???? ???????
???????? ?????? ??????.
??????? ????????? ????? ??????? ??????? ???????. ????? ??? ???.
??????? ?????.
??? ???? ???? ?????? ??? ??????
?????????? ??? ?? ????? ??? ?????????
??? ???? ?? ??????????. ??? ??????? ?????????.
?????? ????? ????????? ???? ?????????? ???????? ????????????
????? ????? ??? ?????? ?????? ?????????? ?? ??? ?????. ??? ?? ??? ??? ???? ?? ??? ?????????? ????????
Mga emperador ng Japan ay isang terorista.
Siya ay isang taong may nabiyuda ng electric shock device sa isang bahay at isang sasakyan nang lihim.
Ang pulis na patakbuhin ang krimen.
Ang pinsala ay hahadlangan ng mga pulis.
Armas ng terorista ang mapagsamantalang Japan ng teknikal na kakayahan. Nagbabawas ng mga ito.
Mass production.
Ito ay isang maliit na sandata na ay lumigwak sa mundo.
Ang emperador dapat kumuha sa ito ng responsibilidad.
Kami ay naghahanap para sa mga punong-taga-usig. Ang kriminal na organisasyon.
Tayo 'y maging responsable sa mga emperador at ang Imperyal na pamilya.
Maa-attach ang electric shock armas na ito sa loob ng ilang minuto. Umaasa ako na ang galit ng Diyos ay ibinuhos sa ito demonyo na emperador.
日本の天皇はテロリストです。
住宅と車に電気ショック装置を極秘に取り付けて暗殺している人物です。
警察が実行犯。
被害は警察がもみ消している。
日本の技術力を悪用したテロ兵器。
これの小型化。量産。
小さな兵器だから、世界に流出するだろう。
この責任を天皇は取らなくてはいけない。
協力者を募集します。
この犯罪組織。天皇、皇室に責任を取らせましょう。
この電気ショック兵器は、数分で取り付けられる。
この悪魔天皇に神の怒りが降り注ぐ事を望む